Your guide to protecting your rental property in Salem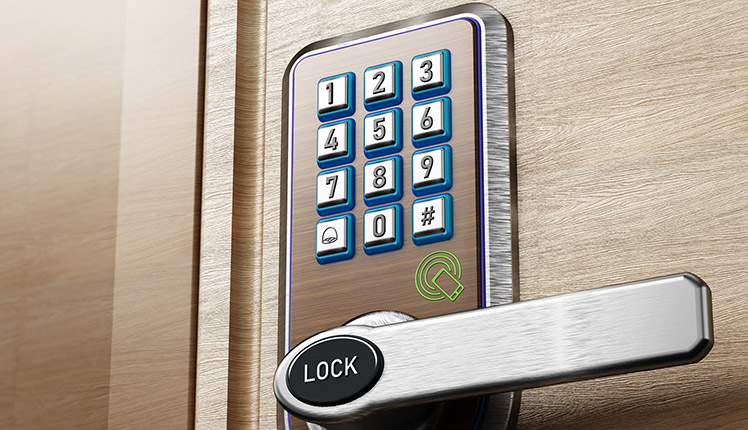 Regardless of whether you sublet a single investment property or have numerous Airbnbs, it's often a challenge to protect your rental properties in Salem. With metal keys going to different guests, it's simple to worry about disappearing valuables or former visitors showing up unexpectantly. Not to mention, what would you do when there's a flood or fire at the property when you're away?
From smart locks to fully automated security systems, here's a quick guide on how to protect your Airbnb in Salem.
Stop hiding keys with your Salem smart locks
When a visitor vacates the premises, they could return all keys for the next guest. On the other hand, if a tenant snatched or made a copy of a key, they would be able to re-enter later. Of course, you might change the locks when a key is "misplaced", but that creates delays and cuts into your revenue.
Thankfully, you can install smart door locks that work along with your security system to alleviate these worries. Then, you can issue each renter their personal code number for entry. When your occupants leave, don't worry about an exchange of keys. All you need to do is program the codes to deactivate when they're gone. If past occupants come back and attempt to use their old code on the number pad, you will be warned with a notification on your phone.
Smart home technology makes empty properties appear to be inhabited
The goal is that your Salem rental property will have a steady flow of renters, but that isn't likely to always be possible. Despite this fact, you need to make it seem that guests are there so your Airbnb isn't a potential target for burglars. Incorporating home automation into your property's security gives you the chance to benefit from smart lights, motion detection devices, and surveillance systems that make your lodging seem lived-in.
Begin by scheduling your smart lights to turn on at particular times of the day. Then, use your security smartphone app to notify you if your cameras detect an intruder lurking in the dark or coming to the front door. You can take advantage of the two-way audio feature to make them know you're watching or arrange for your lighting to automatically illuminate when a camera or motion detector uncovers questionable movement.
Protect your Salem rental property with 24/7 monitoring
Your occupants will have more peace of mind if they have protection from burglars, particularly when Salem is not familiar to them. In the event a prowler makes an effort to break in, your security system will not only initiate the alarm siren but will also ping your 24/7 monitoring agents. Regardless of your location, assistance will be forthcoming. Your monitoring specialists can even act as your authorized go-between and loop you in as soon as you're able.
Besides break-ins, your monitoring team can be connected with fire alarms, flood detectors, and carbon monoxide sensors. It is likely to be harrowing for your visitor if a water heater springs a leak or something catches fire. Not only will you get a cell phone notification that a potentially dangerous event has happened, but the monitoring agent can also coordinate emergency services while you're en route.
Request a modern home security package in Salem
Protect your Salem rental property with a home security system. Thankfully, Vivint has great features like smart lighting, smart locks, and 24-hour monitoring. Touch base with us today and our home security experts will design a package that's perfect for your rental. Phone (503) 994-1230 or fill out the form to get started!